Video Production
BrainGlow: Ideas and Tools For Digital Storytelling
How To Make Your Own Great Videos With Just A Camcorder
Changes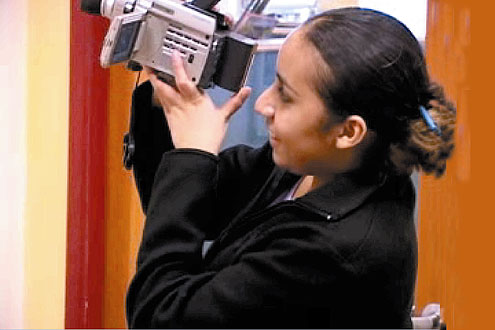 Media Arts, Professional Development
$125 each DVD-ROM ~ Lab Pack: $350 for 5 DVD-ROMs ~ Grades 3-adult
Here's how to start learning – and teaching – digital media production. This versatile DVD-ROM is both an instructional DVD and video editing tool.


• 5 hours of video, animation, & poetry created by youth.
• Interviews with teen storytellers.
• Clear explanations of simple techniques.
• A non-linear editing timeline to make your own movies.
• An extensive library of video, sound effects, music, images, text and animation.
• Over 25 storybuilding activities.
• A teacher's workbook.
• "Insert & play" – no system installation, no additional software required.



Ordering information &nbsp &nbsp Back to Top &nbsp &nbsp Back to Subject Area




How To Make Your Own Great Videos With Just A Camcorder
$89 ~ Grades 4-12 ~ 25 min ~ Leader's Guide
This is the video that started it all! We decided years ago that it was about time that kids got out from in front of the TV, and got in front of a camera. This video teaches kids how to create their own finished video using only a camcorder and their own imagination. If you ever wanted to make your own top quality tapes, but didn't know how, this video will teach you.



"This basic instructional is perfect for introducing classroom video projects." -Booklist



This outstanding tape should be in any school library or classroom where the basics of video production are taught. - The Book Report


Ordering information &nbsp &nbsp Back to Top &nbsp &nbsp Back to Subject Area




Changes
$89 ~ Grades 2-7 ~ 14 min. ~ Leader's Guide
Claymation is the art of combining clay sculpture with video animation. This video, created with 4th and 5th grade students, traces the process from planning to storyboarding to animating. Students will be inspired to create their own amazing clay creatures that transform themselves like magic before their eyes. You'll see the moon become the sun, a monkey become a bird, a shark become an alien and much more.



"… inspiring program that encourages creativity." – Booklist


Ordering information &nbsp &nbsp Back to Top &nbsp &nbsp Back to Subject Area









Back to Home Page