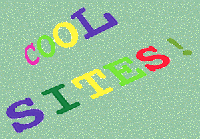 Kid Culture
Kids always complain they get ignored, and this page hopes to remedy that situation. Click away on these different destinations to see some of the many things kids are famous for, from playing games to learning new things. All the sites with the little lightbulb

are sites that might be interesting to educators; this doesn't mean kids won't like them too. If you know of other cool kid sites around the Web, drop us a line and let us know. We'll include them on our hot list if we think they're, well, hot.
Listen Up Cool streaming of kids' videos. There's also links to video festivals and youth media organizations in your area.
Mr. Potato Head Yup, you can actually create your own Mr. Potato Head here. Too much fun!
KidLink This site is devoted to "setting up a worldwide dialogue for 10-15 year olds on the Net". Very good site.
Armadillo's Guide to the Internet See for yourself.
The best thing about the Web is the ability to point to other sites that have better info than your own. This is one of them. DO NOT SKIP THIS ONE IF YOU'RE INTERESTED IN MAKING VIDEOS!
This place is a great example of community involvement that we at NoodleHead find so important.
The Video Project makes videos dedicated to hands-on science, nuclear issues, global human rights, and enviromental concerns.
Want to make your own Electric Motor?
Time to take off into International Kids Space
Check out the coolest games on the web including brain teasers and hangman?
By George, it's King George to check out a "cool" kidvid about moving lots and lots of snow.